Greg called back about the offer. He admits that he wasn't thinking about buying the business; "All I really wanted to know was where else I could buy records." Vinyl had never been a business for him. He worked in consumer electronics and collecting was just a part of his life-long love of music and records. After talking it over with Jackie, a deal was made to buy FHM. On Saturday, October 30, 1999, the two headed to Staten Island in his empty TV van. They got back to NH around midnight with Fast Hits Music loaded in the back. The next morning, they woke up and Greg asked Jackie, "Trick or Treat, what do we do now?"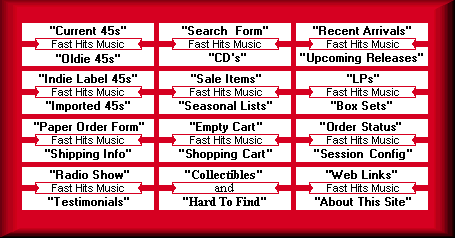 I had never sold records, only bought them. Neither of us had any idea how to run an internet business or about websites at all. Tim had shut the site down but left the front page active. Just before we bought the business, he had put on the front page, 'Wait, the White Knight is coming to save Fast Hits Music!' I think by that time many of the old customers had looked elsewhere and given up on the Fast Hits site. But we're happy to see that many of those customers have started coming back in the last few years, as evidenced by the feedback we're getting.

It took a while for the business to really start expanding. The intial inventory they had acquired from Tim Horman was approximately 8,000 45s, 200 LPs, 200 CDs and a few cassettes. The next summer, in July 2000, Nard's (the place where Tim's brother, Jay, had worked) decided to sell off the bulk of its 45 stock. Greg and Jackie felt that the two-person operation had reached a point where it could handle the growth and they struck a deal. Greg flew down to D.C., rented a U-Haul truck, loaded as many 45's as it could handle (approximately 100,000) and drove them back to NH. After returning, Greg sent Jay an e-mail about the trip:

The guys from Nard's and I loaded that truck for two days until I told them to stop because the springs were buckled over the axles. There were another 30,000 or so to take but the truck was already way overloaded...It was a horrible trip back to NH. The air conditioner quit before I got out of D.C. I hit torrential rains and thunder showers in Connecticut and the defroster wouldn't work. It took me 12 hours to get back. I weighed the truck the next day out of curiosity - 19,120 pounds. Four tons overweight! That vinyl is heavy stuff."
While en route from D.C. another offer to buy a store's inventory came in; "A guy had called and said he was closing his business in six days and needed to get all the records out fast. Down Jackie and I went to Salem, NH, with two empty vans. That deal netted about 50,000 45s. Then in April 2001, another store in Penacook, NH, closed. We bought all the 45s that dealer had (around 4000). In August 2001, we bought a small collection of 45s and 78s from a guy in Dover, NH, maybe 1,000. More recently, in January this year, we bought out another business in Sanbornton, NH. That added another 50,000 to our inventory, including many LPs."

So, what started as a phone call about where to buy 45s has become quite an adventure for everyone involved. Jay Horman's idea about a web-based vinyl distributor has turned a record collecting habit into a growing internet business. Both Greg and Jackie are enjoying the challenge and look forward to contining FHM's success:


It's great to deal with people that love music and records as much as I do. We both really appreciate the positive feedback from customers since taking over the business. Fast Hits is a unique presence on the internet among vinyl dealers. Hopefully we can continue to reach more people and keep getting better.